Pure Pop Culture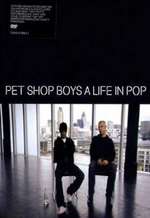 Alas, not enough time to give 'The Starbucks Effect' and lengthy praise (again!) to the Pet Shop Boys, having just watched their "Life In Pop" DVD which flew by at nearly 3 hours. So just some reference notes/precis points:
Tennant/Lowe = Lennon/McCartney? Discuss....
Abba - Discuss....
West End Girls and/or Rent and/or Trevor Horn = Game Over
'Depth Thru Surface' - the final chapter on their DVD, 3 words sumising the dynamic duo & for that matter, true Pop Art(-ists) (Warhol etc.) very well.
Shame there were no interview bytes with their very much 'unsung', 1st producer, Bobby 'O'.
20 years in the 'more volatile than ever' music business and still going strong, as Brandon Flowers (Killers) calmly stated, "Who survives beyond 5 (years)?"
Well, (cough), "When I look back upon my life", not only is "It's A Sin" possibly my most pivotal pop-record, the Pet Shop Boys themselves have been the most vital veins in my pop-pulse. Period.
© 2005 Green Bandana Productions Ltd. Website design by
Steve Mannion.