The Day The Music Industry Died?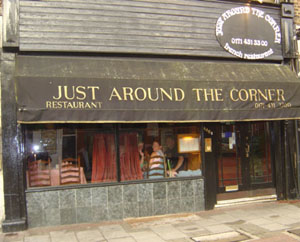 Interesting piece about the demise of the Music Industry in today's Sunday Times, mainly in reaction to Radiohead's bold move about releasing their new "In Rainbows" album next week, allowing fans to pay what they want for it.
Will Radiohead fans be able to get their pennies back if they're not satisfied??
Reminds me of that old skool restaurant near Golders Green called, "Just Around The Corner" (pictured left), where you could pay whatever you felt your meal was worth! Alas, it shut down about 2 years ago.
Personally, I don't think the Music Industry has died, it's the record companies and recording side of the business that has been dying a slow, painful death for a while now. I briefly highlighted this 2 years ago in a blog after some holiday reading of Michael Wolff's "Autumn Of The Moguls" which analyses plenty of media including the Music Business and one of the final nails in its coffin, 'file-sharing'.
So the music business is healthy, it's the record companies who are ill; I like the quote from old school music biz veteran Maurice Oberstein who, when CDs first came on the market said that the industry was crazy, "Do you realise we are giving away our master tapes here?" (this quoted in another excellent piece about the death of the music industry from Prospect magazine and the same journalist of today's Sunday Times piece, Robert Sandall).
Earlier this year, legendary music producer Bob Ezrin (who has worked with the likes of Alice Cooper, Peter Gabriel, KISS and David Bowie and who, perhaps most famously, produced Pink Floyd's 'The Wall') told a Canadian music industry gathering that, in his opinion, the "imminent demise of the record business" is already here.
Ezrin told his audience of artists, songwriters and industry execs: "People are not going to the record store and are not paying for downloads. The old things are gone."
He told artists present that their aim should no longer be for that big hit record, but rather to build lasting relationships with a loyal fanbase, and to plan to pursue an active live career. He said: "Maybe one person in this room will have a hit record. The days of hit records are over. It's about being something real... people need to change their goals in order to survive as entertainers. You've got to play."
This was his killer quote: "What no one can steal is your direct relationship with the audience, you can't duplicate that love affair".
That, Ezrin says, means learning to perform better, and connecting one to one with fans: "You've got to get good. If you're a singer, you have to learn how to sing. You're not an actor or a rock star. You're a singer. That's your job. You have to master your craft. [And after the show] meet fans, shake hands, sign CDs and give URLs for fan clubs. Get their e-mail address, tell them you want to let them know when you're coming back. And work on your web presence. Your web representation to many people is you. You wouldn't not change your clothes for six months, not learn a new song for two years. Why have the same picture on your website? Stop thinking about how to have a hit record and think about new ways to grow the audience and get paid to do something we love."
Record companies - R.I.P.?
© 2005 Green Bandana Productions Ltd. Website design by
Steve Mannion.