Fatboy Slim Shady + Muchos Mash-Up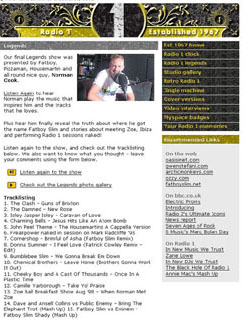 Big up and thanks to Norman Cook / Fatboy Slim ending his legends 1-hour Radio 1 set with good old 'Fatboy Slim Shady' 10 years after Gez & I made it. Here's some background to that "Fatboy Slim Shady" mash-up:
Around 1997 at MTV I started producing an series, "Megamix" in which audio & video were 'mashed-up' to create an audio-visual, er, "Megamix". One of the episodes (Volume 22, part 2 to be precise!) featured the acapella of Eminem's "My Name Is" mixed with Mulder's mix of Fatboy Slim's "Rockafeller Skank", ending up looking and sounding like this:



Everyone at MTV really loved it so Gez and I then created a limited edition 1-sided 12" 'white label' of the mash-up and sent it to Norman Cook (aka Fatboy Slim) and Eminem's people. Skint loved it, wanting to release it though Eminem's people I don't think 'got it' at the time.
As Norman agrees, in this clip from his Radio 1 Legends show, the force of 'mash-ups' as a way to market music and even nurture talent, soon dawned on Mr. Slim Shady so Eminem's label would start liberally and more commercially (as compared to promo-only) give out acapellas on future releases.
When Eddy & I were the radio destination for 'mash-ups' on Xfm's Remix show, it was literally either Missy Elliot or Eminem who featured as vocals on the plethora of mash-ups being produced circa 2000-2001 so Marshall had certainly wised up to the whole mash-up scene bubbling back then.
Whilst on the subject of 'mash-ups', here's something I stumbled on during a tape tidy up. Around 2003, when Canadian TV Station 'Much Music' came to London to talk to me about 'mash-ups' or as they excellently described it, "Frankenstein-ing" a song (!):
(The New Music Clip Includes: History of mash-ups, Kylie Minogue at the Brits performing 'Can't Get You Out Of My Blue Monday', comparisons to 'Surrealism', 'Andy Warhol', DJ-ing, Nirvana, Joy Division etc.)



© 2005 Green Bandana Productions Ltd. Website design by
Steve Mannion.