Yoda Goes To The Movies
Cargo, Friday night & time to watch Yoda go to the movies: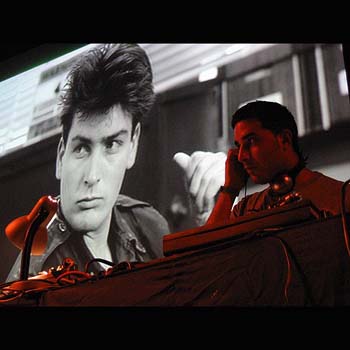 I hadn't seen such a fever-pitched Cargo crowd since the Avalanches set, 16 November 2001 or when Eddy & I DJ-ed alongside Soulwax for that legendary December 2001 Remix night (pictured below):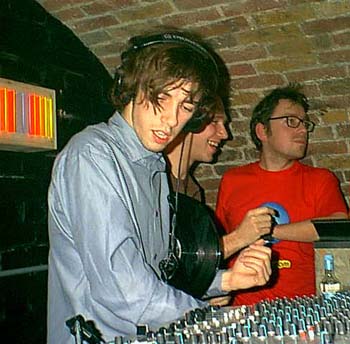 I took my 'seat', minus popcorn, right of stage and was immediately dazzled by Yoda's Pioneer DVJ-X1's, twin Technics decks, Vestax mixer & monitors providing and projecting a visual pot-pourri of pre-dominantly 80s audio-visuals that included 'Scarface', 'The Big Lebowski', 'The Running Man', the dueling banjo sequence off 'Deliverance' (now I realise where Aphex may have got his twisted look from!), 'Masters Of The Universe', Jacko's 'Billie Jean', DMC Mixing championships footage and of course, healthy Yoda namechecks from 'Star Wars'.
Many have paved the way for live 'Visual Scratching', in recent years, Coldcut with V-Jamm, Eclectic Method & Hexstatic, the latter Yoda told me inspired him to show off his own VJ-ing style & fashion. For me though, Yoda's made VJ-ing the most palatable and all-round entertaining. Smiling people watched, cheered, jaws dropping in excited amazement; unlike other VJs, the force was with Yoda who had a core crowd dancing to his familiar rhythms and beats.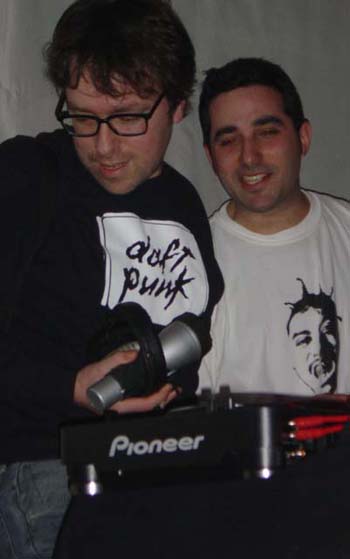 Like my Jazzy Jeff/Will Smith gig, I thought, how can I follow this; all my DVD battle weapons were at home! Fortunately, the worry soon vanished as, like my recent Barcelona set, the open-minded crowd were well up for it.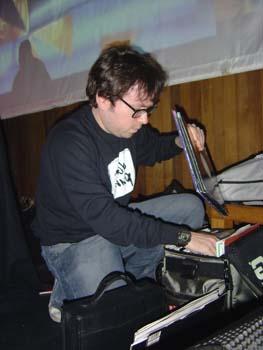 I love playing a straight techno, hip-hop or house set but when I can really mix it up, that's the lick. Friday night's crew got hyped to everything from old skool rave classics like Stakker's 'Humanoid', Prodigy's 'No Good', banging booties a la Phil 'N Dog's 'Dr. Pressure' & Tarantino mash-ups right through to drum & bass doozies e.g. Fugees "Ready Or Not" (torn up by Hype/Zinc), Orbital's 'Dr. Who' (timely with Dr. Who back on the beeb!), the Kaiser Chiefs etc, ending my set at 3AM, the floor still rammed with the Chemical Brother's next single "Believe" pumping.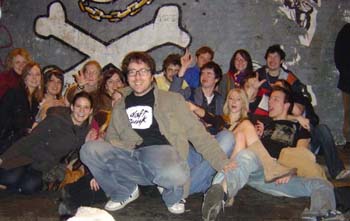 © 2005 Green Bandana Productions Ltd. Website design by
Steve Mannion.