A London Sumtin'
Street 'Yoot' Culture has been provocatively played out superbly over the years - stateside, you had 'Boyz In The Hood', and you're so right, Larry Clark's 'Kids' & 'Bully'.

Brazil literally blew my brains out with 'City Of G-d'; furious favela grilling 'Pulp Fiction' and if you wanna go way back to the old school, dig out 'Pixote'.
Now it's time for the UK to show it's hard enough with 'Kidulthood' & 'Bulletboy'. Many similarities between the two - both low-budget directorial debuts (for 'Menhaj Huda' & 'Saul Dibb' respectively), both mediate on gun culture with an 'urban' backdrop, both are compelling pieces of film, successful in their own right.
Strictly speaking, it's not that fair to blog on both films as 'Kidulthood' isn't quite finished yet (sadly not even a picture I can upload yet!!) plus I'm one of the Music Supervisors for 'Kidulthood'.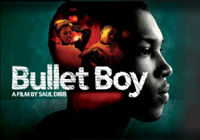 I'll be honest, avoid bias and ramble on - what I've seen, know and wrote above, both pics. deserve major props. Massive Attack's Robert Del Naja scores 'Bulletboy' typically Bristolian, dark 'n moody. 'Bulletboy' lead, Asher D has already imitated art for his role having done time for real; the prison cell in the film was the one where he served some of his sentence for firearm possession (!)
Another similarity - 'Jamie Winstone' in both films. Blink and you'll miss her in 'Bulletboy', in 'Kidulthood', you can't avoid her breathtaking, shocking, stunning performance. Just picture Dad, Ray Winstone schooling daughter Jamie to take a long hard 'butchers' at 'Nil By Mouth' and 'Scum' etc. - boy has she carried on that family's acting baton in gritty style!
'Kidulthood' is explicit with reason, without being stupid or gratuitious; sure to get the Daily Mail brigade up in arms ('scuse the pun!), far more than 'Bulletboy'. Like Chris Morris' 'Brass Eye' paedophilia furore, you wonder how many of those protesting MPs will actually end up seeing the film before they attempt to 'Ban this filth!'.
© 2005 Green Bandana Productions Ltd. Website design by
Steve Mannion.