The Weekend, The Rush...
Quick stop in Barcelona Friday night for a DJ set at the Pop Bar/Club Razz.
Dinner first @ Shoko, great decor including Querelle imagery projected on drapes & hanging trapeze (!)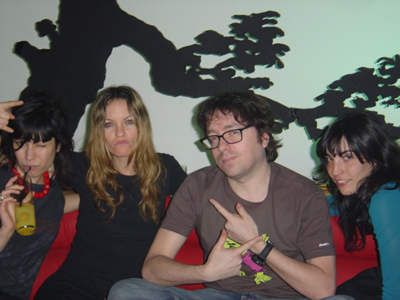 Perfect hostess Patricia (right) bought other guests Tree (left) & Nisha (far left) from 'Ten Minutes With My Dad'. Great name! Before meeting Tree & Nisha, Patricia tells me we've got dinner with 'Ten Minutes With My Dad'; I was baffled for a minute, "Why's she bringing her old man? etc." - you had to be there.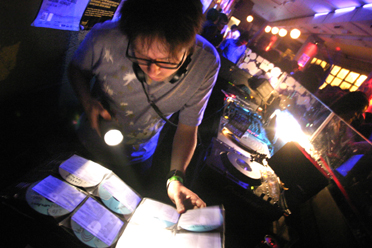 My DJ set was more indie/alternative than my previous main Room Razz sets, dropping everything from The Fall, Stone Roses, Libertines & Bloc Party, ending around 5:30AM with Nina Simone's version of the Beatles' 'Here Comes The Sun'; great intimate up-for-it crowd & thanks to those 3 Barcelona-based Brits who invited me back for their post-party; next time!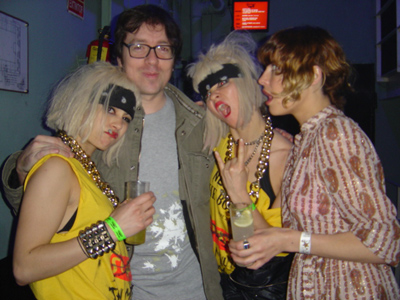 Instead I hung with the ladies: Tabitha from Queens Of Noize & the 'Dusk Till Dawn' transformed, Ten Minutes With My Dad. Shame to have missed Ten Minutes peform as I'm told they really f*cking go for it - fighting, sex, tearing each other's clothes off etc. - ya get me?!!!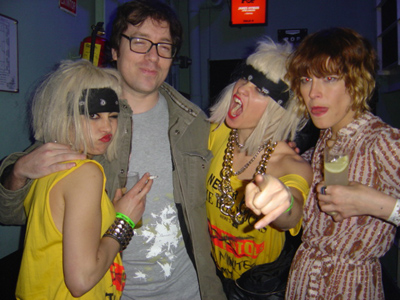 Earlier at dinner, Tree revealed herself to be a fine female geek; in true Tarantino style, she does the video-rental shop thing, watching & recommending films all day & night and puts on related events too.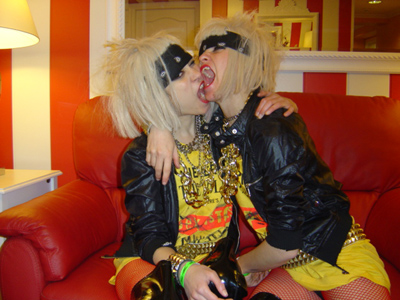 "And then Juliette Lewis came up to me and said......"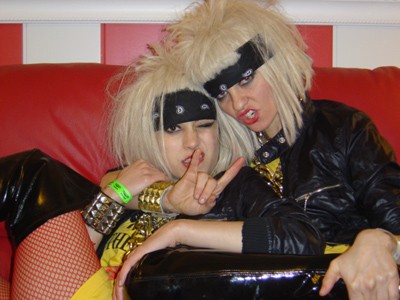 This nuts Spanish guy (below) insisted on a picture, maybe he thought this was a porno shoot and his luck was in - umm, er, no.
William Burroughs long-lost cousin strolls down the corridor with wheely luggage about to leave for somewhere like Istanbul. I had to stop him for a picture with the gals; Mack Daddy big pimpin'!!!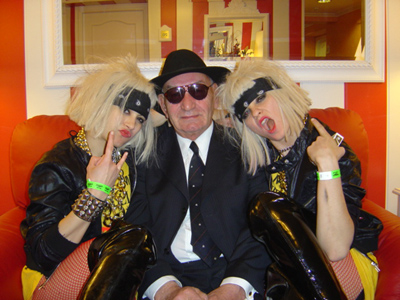 This is Agoria, he makes great 'Tech-tronica' or whatever you want to call it.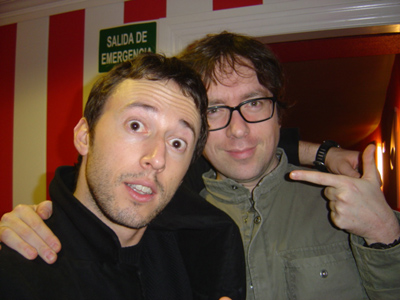 At the airport: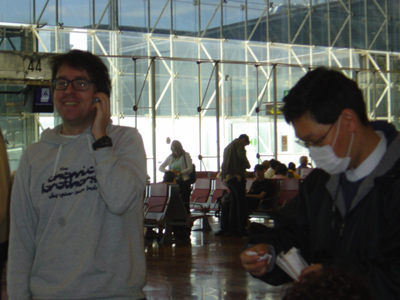 Is this masked guy a 'Do' or 'Don't'. I couldn't tell. Maybe one of those secret Altern-8 fans still mourning their split or the rave days, no Vicks in sight or smelling distance; top one, nice one, get sorted!!!
© 2005 Green Bandana Productions Ltd. Website design by
Steve Mannion.