TDK Festival 28.8.05

Didn't make it to Saturday but Sunday's shenanigans were a blast. Arrived around 6:30PM to host Canvas 3 with a DJ set from 7-8:30PM, then short spins in between acts that included Mocky's great freestyle funk, way out wiggy weirdness from X-Lover (below) & awesome french-tronica from Vitalic whose 'Le Rock 01' caused volcanic crowd noise when dropped by Felix Da Housecat, main stage.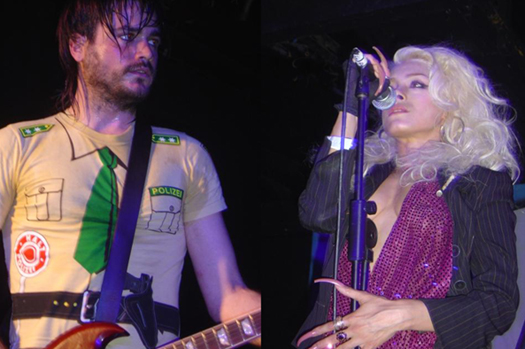 Popped out in between to meet some regular Rinse listeners like Maitresse Marlene, Geoff C & Amina and caught Soul II Soul on the main stage blending mash-ups with live vocalists like Rose Windross; good bank holiday vibe!
To quote Steinski's 'Lesson 1', "Now we come to the payoff", 11:25PM-ish, the reason why everyone was pretty much at TDK/King's Cross - ladies & gentlemen, Miss Grace Jones. What a woman!!! She growled and purred thru all her hits, got Security to carry her from stage left to right/right to left and in the audience/front row, ending with a new track, if I remember correctly called 'Funky 4' (?) which the crowd picked up on and chanted back in seconds.
After chatting quickly to Sway (above), (his 'This Is My Promo' mix-CDs are serious street heat & Sway's THE next big UK rap ting, no diggy!), went backstage and bumped into Chris Cunningham (below). If you're new to this guy, please educate yourself now with his deep/dark DVD doozies, 'Rubber Johnny' & 'Directors DVD'. (I've waxed lyrical on Chris's triumphant talent before here.)
In her festi-van, we hung out with Grace who calmly lifted up my glasses, ensnaring me with a soft steel glaze, and asked if I'd being doing ecstacy (!) then, as she poured me a glass of champagne, cautioned me about being careful with drink. Those who know me well, know I so don't drink or do drugs; maybe my dilated pupils were from being in the presence of such a tigress!!!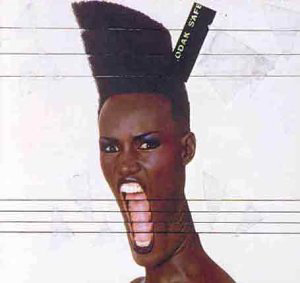 Anyway, no Russell Harty moment, just cool chat and I told Grace to hurry up with a DVD of her work and bring on the Cunningham/Jones visual collab!! Grace still looks strikingly beautiful, such a mutli-talented 80s icon and real celebrity unlike so many manufactured stars. She had, and still has the look and such style. Man, big up her body of work - music with producers like Trevor Horn & Sly & Robbie, those killer pop vids, album covers and overall original look from Jean-Paul Goude (would I love to see a 'Directors DVD' from him!!!! Can't WAIT for the next batch in this magnificent series, hold tight, soon come - Jonathan Glazer, Anton Corbijn, Mark Romanek & Stephane Sednaoui). Where were we? Oh yes, Grace Jones, her film roles as a Bond Girl in 'View To A Kill', Zula alongside guvnor Arnie in 'Conan The Barbarian' and an effortlessy acted yet captivating vampire, Katrina in 'Vamp'. The only other females I can think of who exude such powerful, provocative performances are Bjork and Madonna. All 3 are super-stylin' femme-Pop-Culture right across all media.
Grace is working low-key on a new album and promised me an in-depth interview for 'The Rinse' next week, so keep it locked!!!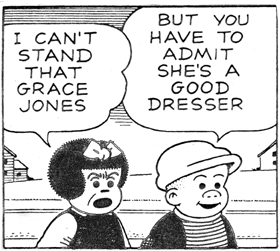 © 2005 Green Bandana Productions Ltd. Website design by
Steve Mannion.