Record Collector/Sight & Sound
Just stating the obvious with the letter to Record Collector below in the ongoing format debate - MP3, Vinyl, CD etc. etc.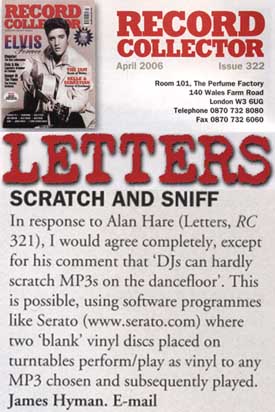 -----Original Message-----
From: David Killington [mailto:mrcd@btopenworld.com]
Sent: Sunday, April 09, 2006 1:36 AM
To: James Hyman
Hello James, how are you? It's Dave the grumpy owner of Mister CD, Berwick Street here.
I am enjoying your ongoing debate about the future of music as in mp3 downloads vs. physical product sales.
There always seems to be some things overlooked in these debates, which is this? One of the beauties of owning a psychical object being a record, cd or dvd is that when times arise and you need to raise some cash, there is always a chance to sell off some rarely played discs that can be sacrificed from your collection to satisfy this. Even, if it's only to raise a few quid for going to the pub.
With buying downloads you are purchasing digital air without any resale value what so ever. I think this will dawn on the mp3 lovers someday, when they are trying to raise funds to pay that annoying phone bill.
Keep up the good work,
David
www.mrcd.co.uk
--------------------------------------------------------------------------------------
If you think my letter above's anal, love this guy's letter 2 tha editor of 'Sight & Sound', about out-of sync subtitles in the f-ing phenomenal french frilla, "Hidden". Michael Brooke, you're so right (Larry), genius!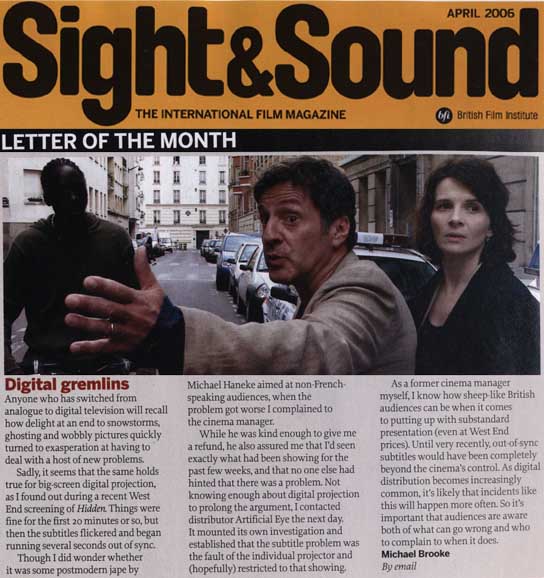 A movie geek mate of mine, more as a scam/ruse, used to complain to the projectionists about a 'hair in the gate' flicking continuously throughout his performance and would get showered with months of free cinema visits!!
And finally back to Record Collector and in this month's May issue, I'm staggered by the 'eBay-Watch' column, specifically the 'Basco Vs The Electroliners' record going for over £5,000!! Wish I could find my copy......the pain!!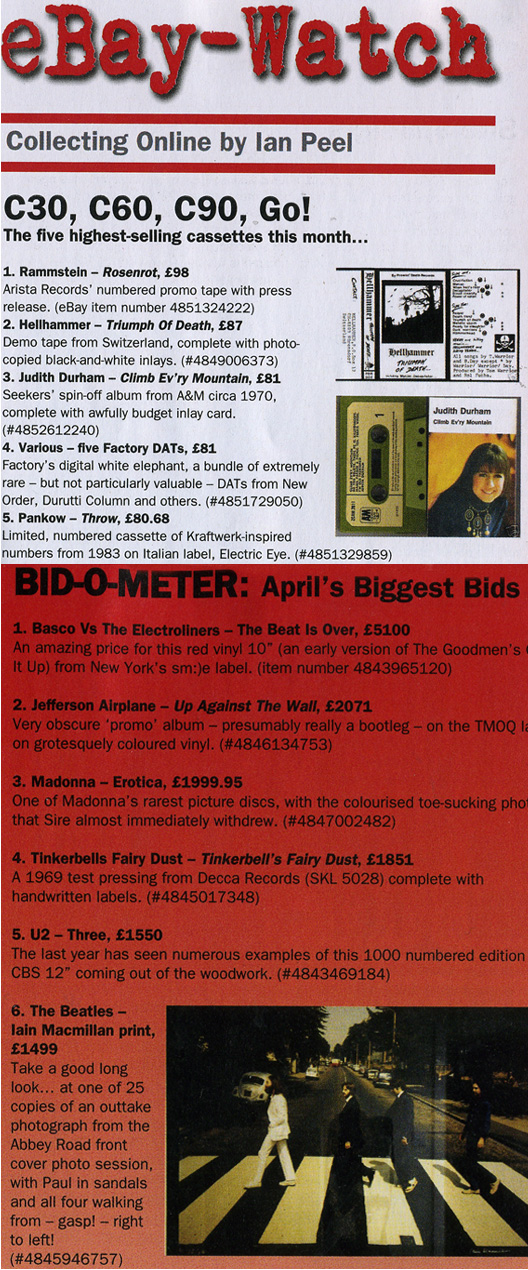 © 2005 Green Bandana Productions Ltd. Website design by
Steve Mannion.