QuickTime Collecting
"What a day, what a day", as Erykah Badu once sang (& probably still does!),
After a couple of meetings at Xfm and lunch at Mash with an ex-Apprentice, old mate James Max, for once I actually had some time to give my Oxford St. Magazine & 2nd hand record stores a right royal 'rinsing'.
Borders first to stock up on some old faves like Adbusters still going strong, grabbing me with their 'Spiritual Pollution' front cover strapline, The Believer and Entertainment Weekly's double-issue for the Oscars. Next, HMV Oxford Street - their stock is sick!
Picked up some useful cheap compilations, eyed up the new 'Tommy Boy' 12 x 'Hip-Hop Essentials' CD compilation series but declined the full-set as a couple of volumes weren't there and then, ever the completist!
The Music DVD section was of course, equally ill and I caressed many titles lovingly, reassuringly comfortable in not needing to purchase them though I topped up on 2 new issues of 'Special Ten' magazine which comes with a free 120 minute DVD of cool/cutting edge pop promos; good work! Similarly, with a healthy £9.99 price tag, I added 'Extra' to the physical not virtual basket, a DVD of 16 electronic music videos (cheaper than downloading them all to your video i-pod if you know how to or be bothered to!).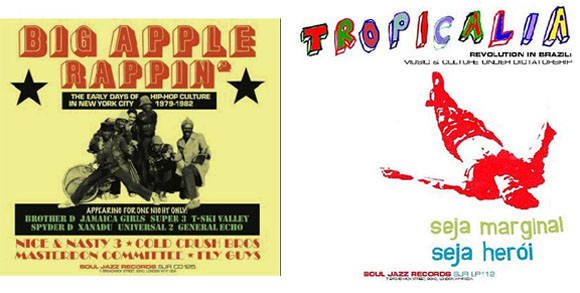 Then a fleeting visit to Broadwick Street's 'Soul Jazz', where Karen complimented me with 2 of their latest compilations "Big Apple Rappin'" & "Tropicalia".
Big Apple isn't the easiest of listening if you're no old skool hip-hop afficianado but boy is it an INVALUABLE aural document of late 70s/early 80s hip-hop culture. As ever with 'Soul Jazz' their compilations exude careful cool in the choice of cuts - 'Big Apple Rappin' boasts incredibly rare to find gems on CD (i.e. legit, no dodgy bootlegs/represses) plus slick sleevenotes in a f-f-rresh smelling 40+page booklet featuring flyers from back in the day y'all!
'Tropicalia' had literally sold out as Karen handed over the last copy, surely fuelled by recent revivals such as Os Mutantes' 'A Minha Menina' covered by The Bees for a Citroen Advert, Beck's 'Mutations' album, the more recent Barbican exhibition etc. Again 'Soul Jazz' deliver with their unique style applied to 'Tropicalia', probably the first decent compilation to bring together all the leading exponents i.e. Gilberto Gil, Jorge Ben and the aforementioned Os Mutantes. Big up the packaging & booklet, again! I'm salivating at the prospect of the up-and-coming Tom Moulton 'Soul Jazz' comp. YUSH!!! On the way out, picked up 2 regular 'free-reads', 'Pimp' (which was previously blogged in a mag round up here) and 'One Week To Live', a 7-day slice of club culture that's all good, particularly for its listings, the "where are they now" feature and good reviews including old albums just for the hell of it.
A brisk 45 second walk led me to a quick trip into Berwick Street 'Church' to pick up some 'stashed saves' including some lost 60s/70s soul on 'Let's Copp A Groove!', Negativland's 'Escape From Noise' and 'The Sounds Of Tomorrow: Mood Mosaic, Vol.9' simply bought for the 2 bow-tied geeks on the b/w patterned cover.
As I cycled back, weighed down like a 'media-mule', I bumped into George Isaac, producer of 'Kidulthood' which premieres this Wednesday in Leicester Square. I'm DJ-ing at the after show party with the usual Brmmmm STICKUM Brit-Hop suspects i.e Roots Manuva, Blak Twang, Shystie & Skitz, if you can blag your way in to the film or party, let George know, I don't even think he's got a ticket, the demand is ghetto red!!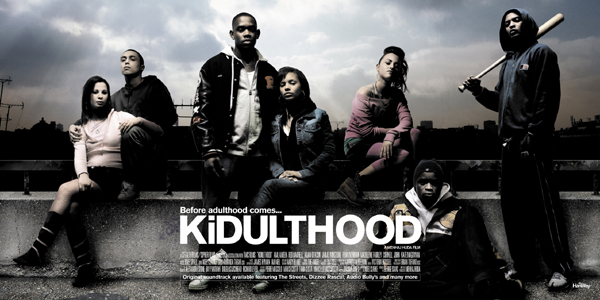 I've blogged 'Kidulthood' several times, first here, then there and back over here as well as a 2-page feature/review in this month's Hip-Hop Connection Magazine plus read the press heat from The Independent, The Sun & Telegraph and Guardian, all in all a firm reminder that the film opens this Friday and you really need to see it.
Left George to sign his all-important paperwork and headed to Camden to finish up the afternoon's 'rinsing' with my Virgin Addict card gaining some ink-stamps by purchasing '3 for 12' - (1) 'New Orleans Jazz' (you never know!), (2) 'French Café Songs' and (3) 'Big Bad Swing' plus DJ Green Lantern's 'Throwback Classics' and Madonna's 'Sorry' CD single just to hear what Green Velvet's remix sounds like. I also shook my head at the thought of buying a ten quid empty Michael Jackson 'Visionary' box, and the prospect of regularly remembering 19 weeks on the trot to fill this box with his re-issued singles, released one by one, week by week from now until May - the Elvis No.1s/Singles Box Collection was a bad enough collecting trauma!!!
Finally a quick holla to the Camden News boys, Ilesh & Bharat and it was home James. Kate's picture (above/top) captured the momentary paralysis of where to begin with all that reading, listening & viewing; but first the post, e-mails, texts, phone calls.......
© 2005 Green Bandana Productions Ltd. Website design by
Steve Mannion.